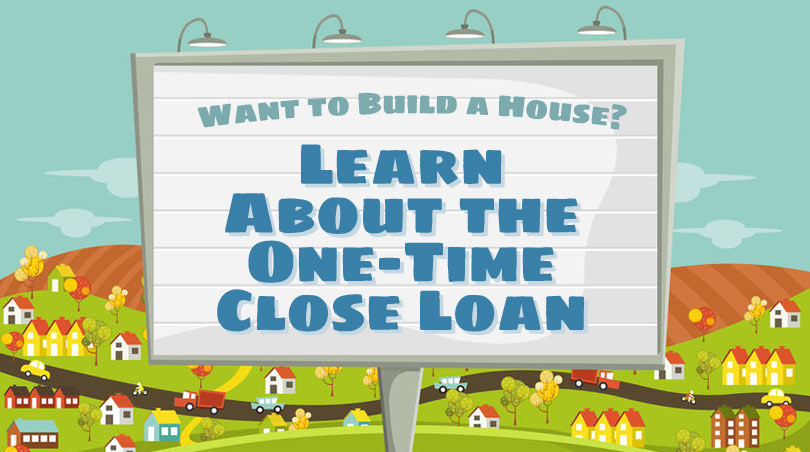 Why choose to build a home instead of buying an existing construction property with an FHA mortgage? Some borrowers simply don't want the hassle of house hunting or can't find the right existing property. In cases where an FHA borrower wants a home built for them, the FHA One-Time Close construction loan (OTC) can be a major help.
In a previous blog post, we started discussing why borrowers should choose an FHA construction loan over a conventional one. There are plenty of reasons including these:
Lower Down Payments
As with interest rates, FICO scores and other credit qualifications will play an important role in the down payment requirement you are given with FHA OTC mortgages. In general borrowers should expect to make a minimum down payment of 3.5%, but borrowers with FICO scores considered marginal may be asked to put 10% down.
Your participating lender will explain if that financial institution has other requirements of the down payment that are unique to FHA construction loans.
Credit History Counts
The usual credit rules apply for FHA One-Time Close mortgages, but your credit history is likely to get more scrutiny with an OTC loan. Don't come to the application process with any late or missed payments (especially for housing-related costs) within the 12 months leading up to your loan paperwork.
The Ability To Choose All The Right Features Of Your New Home
There are plenty of financial reasons to consider an FHA OTC loan; one non-financial incentive is the ability to select just the right features, color schemes, layouts, and design of your dream home rather than trying to find an existing property that comes somewhere close. You will need to work with experts that may include architects and designers; take advantage of their expertise and learn how getting the home you really want will work.
Learn More About FHA One-Time Close / Single-Close Mortgages
We have done extensive research on One-Time Close / Single-Close mortgage loans and spoke directly to the licensed lenders for most states. These are qualified mortgage loan officers who work for lenders that know the product well.
Each company has supplied us the guidelines for their product. If you are interested in being contacted by one licensed lender in your area, please respond to the below questions to save time. All information is treated confidentially.
Your response to onetimeclose@fhanewsblog.com authorizes us to share your personal information with a licensed mortgage lender in your area to contact you.
Please note that the One-Time Close / Single-close Construction Program only allows for single family dwellings (1 unit) – and NOT for multifamily units (no duplexes, triplexes or fourplexes).
Send your first and last name, e-mail address, and contact telephone number.
Tell us the city and state of the proposed property.
Tell us your credit score and/or the Co-borrower's credit score, if known. 620 is the minimum qualifying credit score for this product.
Are you or your spouse (Co-borrower) eligible veterans?  If either of you are eligible veteran's, the down payment is $0 up to the maximum VA lending limit for your county.If not, the FHA down payment is 3.5% up to the maximum FHA lending limit for your county.