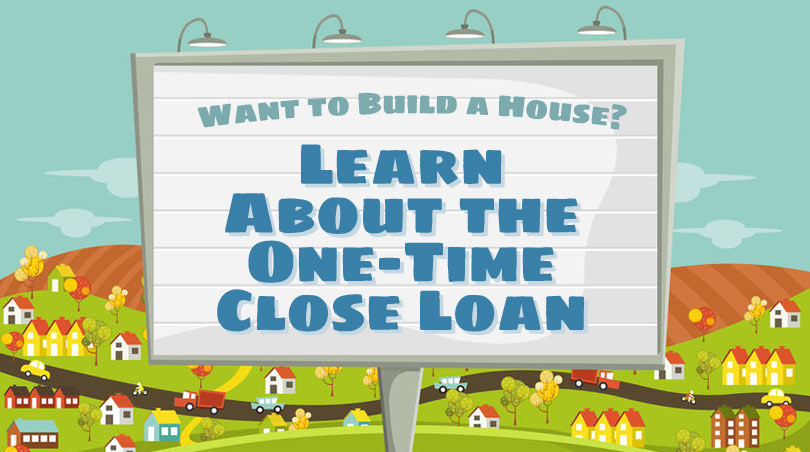 There is a type of home loan borrowers can apply for when they want a house built for them from the ground up. These mortgages are known as One-Time Close loans and are offered by the VA, USDA, and FHA programs via a participating lender. Do you prefer to have a home built just for you rather than purchasing someone else's property?
What Are FHA Construction Loans?
The FHA construction loan known as a One-Time Close (OTC) mortgage, like its' USDA and VA counterparts, offers qualified borrowers a single mortgage for the construction project; traditionally home construction loans featured two applications, two closing dates, and two chances to have a loan application approved or denied.
There is one loan for the construction itself (which must be paid for along with the materials and other expenses) and there is one for the actual home loan.
Anyone who has ever waited for loan approval for any reason knows how difficult it can be to wait for approval; imagine having to wait twice. FHA One-Time Close loans eliminate the second application and the loan closes before construction begins.
FHA One-Time Construction Loan Requirements
FHA OTC loans are like any other FHA mortgage in that the FHA loan approval guidelines are similar. FHA standards (NOT lender standards which also apply) include the following:
A FICO score of at least 580
Down payment of 3.5%
A debt to income ratio less than 43%
The new home must be your primary residence
Proof of employment
Proof of income
No late or missed payments in the last 12 months for best chances of loan approval
USDA One-Time Close and VA One-Time Close equivalents will have their own standards, but the "12-month rule" of no late or missed payments is fairly universal.
Lender Requirements For One-Time Close Construction Loans
Like all other programs, the FHA One-Time Close loan has its' program-defined minimum requirements but the lender will have certain requirements beyond this.
You may find some lenders require FICO scores of 640 or higher, some lenders won't approve a construction loan that requires "manual underwriting" because of certain credit issues, and you may find the types of housing a given lender is willing to approve.
For example, you may find lenders who are only willing to finance construction loans for single-unit properties, some may not approve OTC mortgages for mobile or manufactured homes, etc. There are lenders who are willing to issue such loans but you shouldn't expect all participating financial institutions to do so.
Why choose an FHA One-Time Close construction loan over a USDA or VA version? FHA loans are the most widely available; USDA One-Time Close loans are for approved rural areas only, and VA mortgages across the board or open only to qualifying veterans and certain surviving spouses. The FHA OTC loan is more widely available.
Learn More About FHA/ VA / USDA One-Time Close / Single-Close Mortgages
We have done extensive research on One-Time Close / Single-Close mortgage loans and spoke directly to the licensed lenders for most states. These are qualified mortgage loan officers who work for lenders that know the product well.
Each company has supplied us the guidelines for their product. If you are interested in being contacted by one licensed lender in your area, please respond to the below questions to save time. All information is treated confidentially.
Your response to onetimeclose@fhanewsblog.com authorizes us to share your personal information with a licensed mortgage lender in your area to contact you.
Please note that the One-Time Close / Single-close Construction Program only allows for single family dwellings (1 unit) – and NOT for multifamily units (no duplexes, triplexes or fourplexes).
Send your first and last name, e-mail address, and contact telephone number.
Tell us the city and state of the proposed property.
Tell us your credit score and/or the Co-borrower's credit score, if known. 620 is the minimum qualifying credit score for this product.
Are you or your spouse (Co-borrower) eligible veterans? If either of you are eligible veteran's, the down payment is $0 up to the maximum VA lending limit for your county.If not, the FHA down payment is 3.5% up to the maximum FHA lending limit for your county.