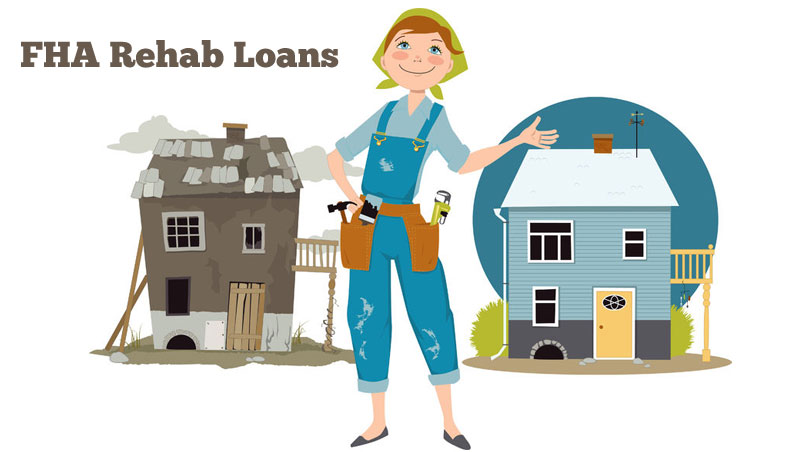 Published reports about home loan trends include stats indicate that more than 85% of home buyers or home owners in the Millennial age range will be undertaking renovation, fixer-upper, or remodeling projects in the next three years.
These borrowers scour social media such as Pinterest to find decor, design, and layout ideas; these borrowers don't seem to mind spending a bit extra to add just the right features to a home.
Is there an FHA mortgage loan for these people?
The FHA Rehabilitation Loan
If you need to buy and remodel a home, the standard FHA mortgage is not the right type of loan to ask for. Instead, ask your loan officer about an FHA 203(k) Rehabilitation mortgage, which is available to help buy and repair or remodel a home with approved projects.
The FHA rehab loan allows you to purchase property that, as-is, would not pass the FHA appraisal process.
But as a condition of loan approval, the borrower gets funds to fix up the home which are paid to contractors from an escrow account for labor and materials. The FHA 203(k) comes as a standard loan or a limited loan for those who don't need as much money but still want to do projects up to a value of $35,000.
The standard 203(k) rehab loan has a minimum repair cost of $5,000 and requires the use of a consultant. The limited 203(k) loan does not require the use of a consultant but does not permit major structural alterations to the property.
The FHA 203(k) Rehab Refinance Loan
The FHA 203(k) comes as a refinance loan, too. This allows you to refinance the home and repair/remodel under similar conditions/requirements of the 203(k) used to buy and repair.
FHA Rehabilitation Loan Requirements
FHA borrowers will need qualifying FICO scores (lender standards are not the same as FHA minimum requirements), they need to be current on any mortgage currently being paid, and for standard FHA rehab loans a 203(k) consultant is required. This person's job includes the following as described in the FHA Single-Family Loan Handbook.
"The Consultant must prepare a report on the current condition of the Property that categorically examines the Structure utilizing (a) 35 point checklist. The report must address any deficiencies that exist and certify the condition of all major systems: electrical, plumbing, heating, roofing and structural."
Ask a loan officer about how you can best use FHA rehab loan fund to repair or renovate your home, and don't forget to ask about other options such as adding an FHA Energy Efficient Mortgage package to the loan for extra funds to upgrade the home with energy-saving features.