January 29, 2023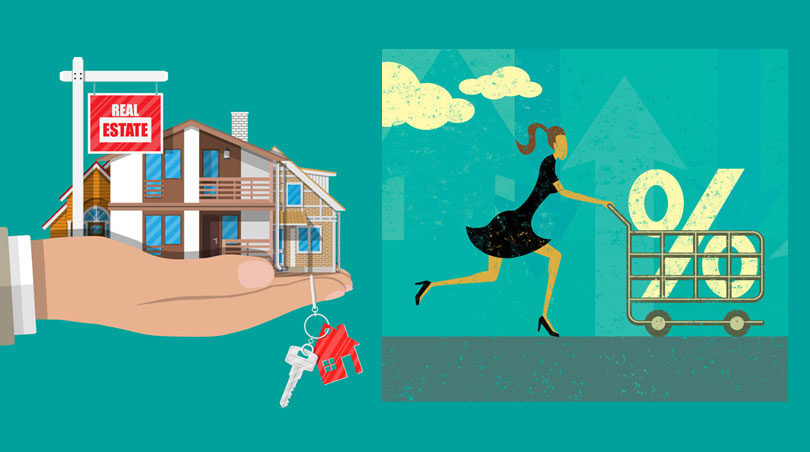 What is the difference between new construction and existing construction? For the purpose of an FHA home loan, the distinction can be important, even if it's just on a procedural level. The FHA loan handbook (HUD 4000.1) makes important distinctions between new construction and existing construction loans.
FHA Home Loans For Existing Construction Properties
The FHA defines existing construction properties in a very specific way:
"Existing Construction refers to a Property that has been 100 percent complete for over one year or has been completed for less than one year and was previously occupied."
The appraisal requirements for existing construction are not quite the same (in terms of timing, paperwork and required forms) but the issue that will most affect a typical borrower is in how the appraisal is to be used.
Appraisals are NOT a tool for the borrower. You cannot use an FHA appraisal or the results of a compliance inspection (ordered when corrections are required as a condition of loan approval) as a way to determine if the home is "safe to buy".
Borrowers should plan on arranging and paying for the optional, but extremely important home inspection as the means to determine whether the home is fit to purchase.
For existing construction loans, the timing of your home inspection won't be the same as it might be for a new construction loan, but one thing is certain; a borrower should not allow themselves to be obligated to purchase a home without the results of a home inspection.
FHA Home Loans For New Construction Properties
FHA loans can be approved for FHA One-Time Close construction loans (also known as construction-to-permanent loans) which are for homes built from scratch from the ground up.
There are other types of construction loans (which feature two applications and two closing dates), but for those who want a single application and closing date, the FHA One-Time Close construction loan is an option worth exploring.
Defining New Construction
FHA loan rules in HUD 4000.1 define "new construction". "New Construction refers to Proposed Construction, Properties Under Construction, and Properties Existing Less than One Year as defined below:
Proposed Construction refers to a Property where no concrete or permanent material has been placed. Digging of footing is not considered permanent.
Under Construction refers to the period from the first placement of permanent material to 100 percent completion with no Certificate of Occupancy (CO) or equivalent.
Existing Less than One Year refers to a Property that is 100 percent complete and has been completed less than one year from the date of the issuance of the CO or equivalent. The Property must have never been occupied."
The "Existing Less Than One Year" label is important-the home should not be sold as "existing construction" if it does not meet the requirements for existing construction including the "never occupied" condition mentioned above.
Additional Requirements
There are additional appraisal requirements for New Construction homes depending on when the appraisal was completed. According to HUD 4000.1:
"When New Construction is less than 90% complete at the time of the appraisal, the Appraiser must document the floor plan, plot plan, and exhibits necessary to determine the size and level of finish. When New Construction is 90% or more complete, the Appraiser must document a list of components to be installed or completed after the date of appraisal."
This is important because depending on the timing of the appraisal, certain conditions may not be observable that determine whether the property will meet FHA minimum property requirements (MPRs) and minimum property standards (MPS):
"If the Appraiser cannot determine that a Property meets FHA's MPR or MPS, an inspection by a qualified individual or Entity may be required. Conditions that require an inspection by qualified individuals or Entities include:
Standing water against the foundation and/or excessively damp basements;
Hazardous materials on the site or within the improvements;
Faulty or defective mechanical systems (electrical, plumbing or heating/cooling);
Evidence of possible structural failure (e.g., settlement or bulging foundation wall, unsupported floor joists, cracked masonry walls or foundation);
Evidence of possible pest infestation;
Leaking or worn-out roofs; or
Any other condition that in the professional judgment of the Appraiser warrants inspection."
Want More Information About One-Time Close Loans?
One-Time Close Loans are available for FHA, VA and USDA Mortgages. These loans also go by the following names: 1 X Close, Single-Close Loan or OTC Loan. This type of loan allows for you to finance the purchase of the land along with the construction of the home. You can also use land that you own free and clear or has an existing mortgage.
We have done extensive research on the FHA (Federal Housing Administration), the VA (Department of Veterans Affairs) and the USDA (United States Department of Agriculture) One-Time Close Construction loan programs. We have spoken directly to licensed lenders that originate these residential loan types in most states and each company has supplied us the guidelines for their products. We can connect you with mortgage loan officers who work for lenders that know the product well and have consistently provided quality service. If you are interested in being contacted by (one) licensed construction lender in your area, please send responses to the questions below. All information is treated confidentially.
OneTimeClose.com provides information and connects consumers to qualified One-Time Close lenders in an effort to raise awareness about this loan product and to help consumers receive higher quality service. We are not paid for endorsing or recommending the lenders or loan originators and do not otherwise benefit from doing so. Consumers should shop for mortgage services and compare their options before agreeing to proceed.
Please note that investor guidelines for the FHA, VA and USDA One-Time Close Construction Program only allow for single family dwellings (1 unit) – and NOT for multi-family units (no duplexes, triplexes or fourplexes). You CANNOT act as your own general contractor (Builder) / not available in all States.
In addition, this is a partial list of the following homes/building styles that are not allowed under these programs: Kit Homes, Barndominiums, Log Cabin or Bamboo Homes, Shipping Container Homes, Dome Homes, Bermed Earth-Sheltered Homes, Stilt Homes, Solar (only) or Wind Powered (only) Homes, Tiny Homes, Carriage Houses, Accessory Dwelling Units and A-Framed Homes.
Your email to info@onetimeclose.com authorizes Onetimeclose.com to share your personal information with (one) mortgage construction lender licensed in your area to contact you. Your credit report will NOT be pulled due to sending this and we do not ask for Social Security numbers.
Send your first and last name, e-mail address, and contact telephone number.
Tell us the city and state of the proposed property.
Tell us your and/or the Co-borrower's credit profile: Excellent – (680+), Good – (640-679), Fair – (620-639) or Poor- (Below 620). 620 is the minimum qualifying credit score for this product.
Are you or your spouse (Co-borrower) eligible veterans? If either of you are eligible veteran's, down payments as low as $0 may be available up to the maximum amount your debt-to-income ratio VA will allow – there are no maximum loan amounts as per VA guidelines. Most lenders will go up to $1,000,000 and review higher loan amounts on a case by case basis. If not an eligible veteran, the FHA down payment is 3.5% up to the maximum FHA lending limit for your county.
Or go to our site and Request Additional Information.