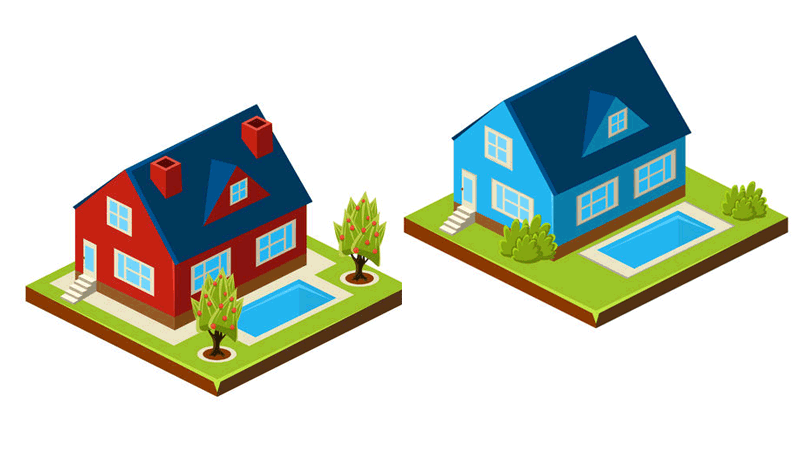 What are the major differences between FHA loans and conventional loans? Do you know why people choose FHA over conventional mortgages? There are many reasons, depending on the borrower, but let's examine how FHA loans differ to see what advantages you may find with a participating FHA lender.
FHA Loans Versus Conventional Loans: Interest Rates
Depending on your FICO scores and other financial qualifications, you may be required to put as much as 20% down on a conventional mortgage loan. Compare that to the FHA-required minimum down payment of 3.5% of the adjusted value of the property.
Down payment requirements can and often do depend on your credit score, and for FHA mortgages, HUD 4000.1 (the FHA Single Family Loan Handbook) states that borrowers with FICO scores 580 or higher technically qualify for maximum financing. Additional lender standards and other requirements may also apply, but the FHA loan program rules permit lenders to approve borrowers with FICO scores at 580 or higher for the lowest down payment.
FHA Loans Allow Penalty-Free Early Payoff
FHA home loan rules specifically address paying more than your monthly mortgage amount. HUD 4000.1 states, "The Mortgagee must accept a prepayment of a Mortgage in whole or in part on any Installment Due Date without penalty to the Borrower." Over the years, there have been changes and amendments to FHA loan rules that govern pre-payments, early payoffs, etc. The specific procedure varies for borrowers making larger payments or paying off the loan in full before the full loan term, depending on when you applied for your loan.
For those applying for new home loans today, HUD 4000.1 has a section of the handbook which states, "The Mortgagee must accept a prepayment on a Mortgage closed on or after January 21, 2015, at any time and in any amount. The Mortgagee must calculate the interest as of the date the prepayment is received, not as of the next Installment Due Date."
FHA Loans and Mortgage Insurance
Conventional loans require the borrower to carry Private Mortgage Insurance (PMI). FHA mortgage loans do not require PMI, but instead require the payment of an Up Front Mortgage Insurance Premium and an annual Mortgage Insurance Premium (MIP). The MIP is calculated based on the LTV, rate, term, and base amount of the loan. The UFMIP may be financed into the loan amount rather than paid up front and out of pocket. Borrowers who choose this option must either finance the entire UFMIP or pay the entire amount in cash.
Refinance Loan Options
While it's true that both FHA and conventional mortgage loans offer the option to refinance, FHA mortgages offer a unique Streamline Refinance loan option which has no FHA-required appraisal or credit check. The lender may or may not required these as a condition of the loan. FHA Streamline Refinance loans are required to provide some tangible benefit to the borrower in the form of either reduced monthly mortgage payments, reduced interest rates, or switching from an adjustable rate mortgage to a fixed rate loan.
The stability of the fixed rate FHA mortgage loan is considered a tangible benefit. Conventional loans may or may not offer something similar, depending on the financial institution, but the ability to apply for an FHA Streamline loan is a major benefit. FHA Streamline loans are for existing FHA mortgages only.