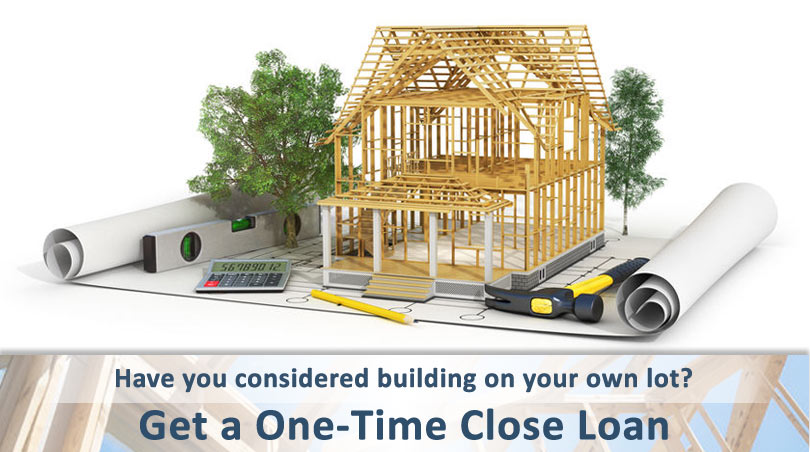 If you do not want to buy existing real estate or hire a realtor, and prefer to design your own home (or have one designed for you), a One-Time Close (OTC) construction loan is for you.
These loans are named "One-Time Close" because unlike some construction loans that require two applications, two approvals, and two closing dates, One-Time Close mortgages have ONE loan for both the construction of the home and for the mortgage itself.
These construction loans are available under several government-backed lending programs such FHA One-Time Close construction loans, VA Construction loans, and the USDA equivalent.
VA and USDA loans have no down payment requirement, but VA mortgages are not for the general public (qualifying veterans, currently serving troops, and certain surviving spouses of military members who died as a result of military service.
FHA construction loans require only a 3.5% down payment for those with qualifying FICO scores.
Conditions You Should Know
As mentioned above, VA and USDA loans have restrictions, even on construction mortgages. Those who want to build on their own lot using the more accessible FHA loan option should know that FHA OTC mortgages also have certain restrictions that include the following requirement as listed on page 445 of HUD 4000.1:
"The Borrower must be purchasing the land at the closing of the construction loan, or have owned the land for six months or less at the date of case number assignment."
You read that correctly, borrowers have a time limit on how long they can own the land they want to build the home on. Additionally, FHA loans have a restriction on the amount of cash back to the borrower not coming in the form of refunds for money spent up front on items later financed (such as the FHA Up-Front Mortgage Insurance Premium, which must be financed entirely or paid in full in cash at closing time.)
HUD 4000.1 instructs the lender to carefully monitor certain types of payouts or "draws" depending on circumstances:
"The Mortgagee must document any Borrower-paid extras over and above the contract specifications and any out-of- pocket expenses not included in the builder's price to build by obtaining evidence funds were derived from an acceptable source. The Mortgagee must obtain an itemization of the extras and expenses and the cost of each item."
Learn More About VA, FHA, Or USDA One-Time Close / Single-Close Construction Loans Today
We have done extensive research on FHA, VA and USDA One-Time Close / Single-Close mortgage loans and spoke directly to the licensed lenders for most states. These are qualified mortgage loan officers who work for lenders that know the product well.
Each company has supplied us the guidelines for their product. If you are interested in being contacted by one licensed lender in your area, please respond to the below questions to save time. All information is treated confidentially.
Your response to onetimeclose@fhanewsblog.com authorizes us to share your personal information with a licensed mortgage lender in your area to contact you.
Please note that the One-Time Close / Single-Close Construction Program only allows for single family dwellings (1 unit) – and NOT for multifamily units (no duplexes, triplexes or fourplexes).
1. Send your first and last name, e-mail address, and contact telephone number.
2. Tell us the city and state of the proposed property.
3. Tell us your credit score and/or the Co-borrower's credit score, if known. 620 is the minimum qualifying credit score for this product.
4. Are you or your spouse (Co-borrower) eligible veterans? If so, the down payment is $0 up to the maximum VA lending limit for your county. If not, the FHA down payment is 3.5% up to the maximum FHA lending limit for your county.