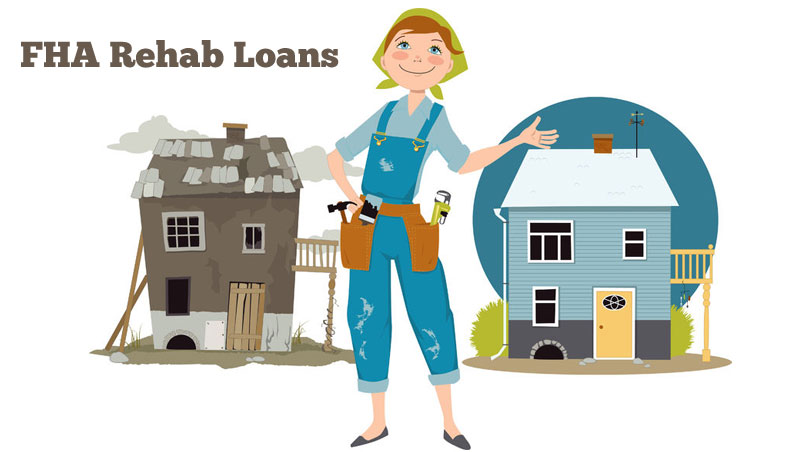 Are you interested in buying and fixing up a home, or refinancing and remodeling your current home? These are projects are possible in 2020 thanks to the FHA Rehabilitation Loan, also known as the FHA 202(k) Rehabilitation Loan or the refinance loan version of it.
The FHA has a program that allows borrowers to apply for a mortgage loan in order to improve a property. The FHA 203(k) rehab loan is intended for borrowers who want to buy or refinance the property and do repairs, but not all borrowers have big rehab projects or work that requires a huge sum of money.
Two Rehab Loan Options Open To You
There are two different types of 203(k) loans-the "full" version is available for larger projects including work on loan-bearing structures, but there is also a "limited" 203(k) for projects that require a smaller amount of funds and do not include work on load-bearing walls, etc.
The FHA official site describes the limited 203(k) as follows:
"FHA's Limited 203(k) program permits homebuyers and homeowners to finance up to $35,000 into their mortgage to repair, improve, or upgrade their home. Homebuyers and homeowners can quickly and easily tap into cash to pay for property repairs or improvements, such as those identified by a home inspector or an FHA appraiser."
You can use this loan to make property repairs, improvements, or prepare their home for sale. The HUD official site reminds, "Homebuyers can make their new home move-in ready by remodeling the kitchen, painting the interior or purchasing new carpet."
What can be done with a limited 203(k)? We discussed work on loan-bearing walls above, here's what the rules have to say about Limited 203(k) rehab loan work:
"The Limited 203(k) may only be used for minor remodeling and non-structural repairs. The Limited 203(k) does not require the use of a 203(k) Consultant, but a Consultant may be used. The total rehabilitation cost must not exceed $35,000. There is no minimum rehabilitation cost."
The "minimum rehabilitation cost" mentioned above refers to the standard 203(k) $5000 minimum loan for rehab work. 203(k) loans are available for single-family homes with one to four units.
Completion Date Requirements
HUD 4000.1 states that the home must have been completed for at least one year prior to the case number assignment date. If the Mortgagee is unsure whether the Property has been completed for at least one year, the Mortgagee must request a copy of the Certificate of Occupancy (CO) or equivalent."
203(k) mortgages can be handy in situations where a home for sale is not eligible for a standard FHA mortgage in its' as-is state" that would not permit the property to pass the FHA appraisal:
"A Property that is not eligible for a 203(b) Mortgage due to health and safety or security issues may be eligible under 203(k) if the rehabilitation or repair work performed will correct such issues."
FHA loan rules say an FHA 203(k) can be used in conjunction with an FHA Energy Efficient Mortgage (EEM), which would allow the borrower to get additional funds to specifically apply towards approved energy-efficient upgrades to the home, so it's easy to see how the 203(k) would be an attractive option for purchasing a fixer-upper property.
FHA rules and lender standards will guide how rehab loan funds can be used–there are specific procedures for drawing, disbursing, and using the funds.
HUD 4000.1 says you cannot use FHA rehab loan money to finance costs associated with the purchase or repair of "any luxury item, any improvement that does not become a permanent part of the subject Property, or improvements that solely benefit commercial functions within the Property".